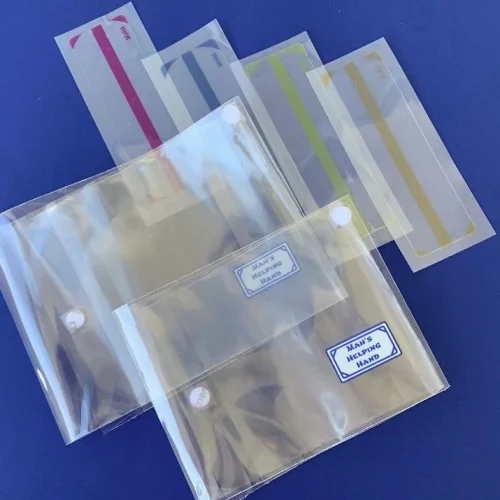 Easily keep track of your hands with Mah Jongg Highlighters!
At Mah's Helping Hand (MHH) we are committed to providing Mah Jongg tools for you and your generations of loved ones to use over and over. We believe our products will take the frustration away from beginner players and students by helping them keep track of their hands while gaining confidence and solidifying the rules of the game. Our Mah Jongg Highlighters are terrific tools for playing SIAMESE MAH JONGG® and Royale SIAMESE MAH JONGG®, too!
Our Mah Jongg Highlighters come in four colors blue, yellow, pink and orange. They are reusable and washable. They stay cleaner and last longer when used with our protective card Sleeves.
While our Mah Jongg Highlighters may adhere to other card covers or temporarily stick to a card, we are not responsible for any issues using our Highlighters without our protective Sleeves. They are only guaranteed when used on our protective card Sleeves.
Watch this video on washing your Mah Jongg Highlighters to keep them clean for use over and over again.​
Our Sleeve Kits include a Small (Standard) or Large protective card Sleeve with either 3 or 4 Mah Jongg Highlighters in various colors. Click here to check prices, see Promos and purchase.
Our uniquely designed protective card Sleeves are made of thick, clear polypropylene. They completely enclose your card and have a velcro, closable flap on the end that provides protection from liquids, food etc.  Our protective card Sleeves stay clear and intact for years of prolonged use. Use a baby wipe to keep them clean.